*Updated: January 12, 2023
The convenience of having someone come to your home or office and groom your dog sounds like a dream. But is it really? What are the pros and cons of mobile dog grooming? With a lot of people now working from home or working remotely the thought of a mobile dog groomer does ring all the right bells. But before you jump in paws first, let's explore this a bit deeper.
Budget Tip:

While a mobile dog groomer will most likely cost more than a salon groomer, it can be more convenient. Additionally,  it can reduce stress for you and your dog. There's always a balancing act in life, this includes your dog's needs. 

But if you decide that a mobile pet groomer will be less stressful for your dog, and you, as well as more convenient, then it's a great choice. Plus, with the rising gas prices, you will most likely make a very good choice. You can easily re-budget the extra grooming cost from your household gas cost to your dog grooming budget. That's a great idea!
Note: For this article, I've asked a dear friend of mine, Kelley, for feedback on her experiences with mobile dog grooming. She is a snowbird. For those of you who haven't heard the term "snowbird" she escapes the snowy winters with the birds. So, for Kelley, she summers in the beautiful Rocky Mountains of Colorado with her husband, and two adorable long-haired dachshunds (Rooney and Tootsie). Then when it starts to cool off they all head south to the equally beautiful desert of Arizona. Kelley has used several mobile dog groomers in both locations. A perfect resouce for exploring this topic.
What is a mobile dog groomer?
This may surprise you to find out what a mobile dog groomer is or isn't exactly. Furthermore, the services each of these groomers offers can vary greatly.
Fully self-contained pet groomer
Some groomers will come completely equipped with an RV or van that has running water, a dog grooming table, and electricity (or generator). They will provide everything including shampoo, conditioner, towels, and drier. Additionally, they will trim nails, express glands, and do everything within their self-contained mobile dog grooming salon.
As such, you are allowed to pop in and check on your dog as you see fit. These can be the preferable groomers with more experience. At least they seem to be in most areas. However, this luxurious spa comes with the steepest price.
The groomer comes to you
Meanwhile, others will come to you (wherever that is your home or office). BUT you have to supply everything including, a sink (or tub), dog shampoo, conditioner, towels, brushes, and blow dryer. You may be asked to hold your dog during the grooming.
However, they seem to come equipped with scissors and razors. You will generally be left with the clean-up, which for some dogs (like my Henry, is a HUGE pile of fur). But the price is better on these types of mobile dog groomers. They don't have the overhead of an RV or van to factor into their costs.
Hybrid mobile dog groomer
Still, there's a middle group of mobile dog groomers that will use your sink, but provide most of the other supplies. Although, the grooming will take place within your home or the place you designate. Additionally, you may still have to hold your dog during the entire grooming process. However, your dog will be bathed, dried, cut, nails trimmed and glands expressed. The clean-up will vary by pet groomer. But the prices are more comparable to the second mobile groomers.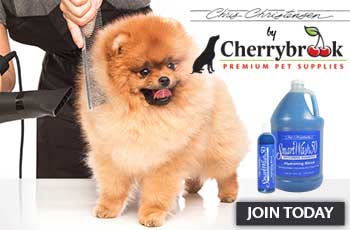 Does a mobile dog groomer need a license?
Good question. You would like to think that anyone working on or with animals would need some sort of license. Or at a minimum a certification through your state. However, the requirements actually vary by state. To see what your state requires simply go here and then scroll down to the map and click on your state. Then scroll down to "Requirements". It will tell you what your state requires of pet groomers. Rest assured this does include mobile pet groomers.
What are the pros of a mobile pet groomer?
1. Convince
Regardless of the type selected, a mobile grooming service offers the pet parent convenience as they come to you. Of course, this can be a priceless asset for some dog parents. This means you don't have to drop everything or schedule around taking your dog to the groomer.
2. Less stress for your dog
If your dog has separation anxiety, then a mobile groomer will lessen this impact on your furry friend. He or she won't leave your property or the area you designate. Additionally, your dog won't be kenneled as only one dog is worked on at a time. Although a mobile dog groomer can do multiple dogs at one location. Generally, there's only room for one dog to be worked on at a time. Thus, this should greatly reduce your dog's anxiety level.
3. Reduces the stress on you
If you worry about what is happening to your dog while he or she's at the groomer, a mobile groomer helps eliminate this factor as well. You can easily keep your eyes on the pet groomer, especially if the groomer is in your home. Even if the groomer is self-contained you can look in as you desire.
NOTE: Kelley began her journey with mobile dog groomers when her beloved Gus, a Yorkie/Maltese mix, went to a brick and mortar groomer healthy but when came home he died unexpectly within an hour. As a result, she vowed to never let this happen again. And now she always keeps an eagle eye on her dogs during a grooming service. Therefore, mobile pet grooming reduces her stress as well as her dogs.
4. Other pets groomed
If you have a cat that needs to be brushed or groomed, many mobile groomers will provide this service. This is a major benefit since most cats don't like to travel and don't enjoy being groomed.
What are the cons of a mobile dog groomer?
1. Unreliable
There are a few negatives associated with mobile pet grooming. Kelley tells me that her mobile dog groomer in Colorado is late 70% of the time. Or simply never shows. This can be a major issue if you've scheduled calls, zoom meetings, or kids' naps around the groomer's arrival.
Although relating this to a typical dog grooming salon, lateness is probably pretty average. Personally, no matter what groomer I've used, they've never been ready for Henry when I've taken him in for his spa day. Then on the backside, the groomer will often call an hour later than I expect for him to be ready. Generally, it's not a big deal. However, I always worry about Henry.
2. Use of dog parent supplies
If you know ahead of time that you need to supply dog shampoo, conditioner, towels, dryer, and even the sink (or tub), for the bath it's probably not an issue. But, if you're told over the phone that the mobile dog groomer is completely self-contained and then he or she shows up and they want to use all your supplies without notice, it can be unnerving!
As an example, this type of false advertising by a mobile dog groomer happened to Kelley once. That groomer hasn't been back. Remember, as dog and pet parents our responsibility is to our furry friends first. In my view, a groomer who lies equates to someone who lies on a resume. What else is hiding and lurking to be discovered?
3. Holding your dog for the entire grooming process
If you have any issues, such as a bad back, then definitely avoid the types of mobile dog groomers that will want you to hold your dog. Depending on your dog that could be a 1-2 hour timeframe. So, there goes making life easy by the convince of a mobile dog groomer. Honestly, my back would scream after an hour!
4. Cleaning up of the fluff might be on your end
If the dog groomer uses your facilities, you may need to clean up and vacuum after the grooming. This is more work for you, especially depending on your dog's coat. It may not be a deal-breaker, as long as you're prepared.
5. Pricing
The price will vary depending on your dog, the services, and your area. Not to mention the groomer and his or her skill level.
How much does a mobile dog groomer cost?
Here's a very good example, Kelley has two long-haired dachshunds. In Colorado, the price is $50 per dog plus tip. In Arizona, it varies from $50-85 per dog.
However, in my area of Northern Nevada, the price for mobile grooming for a small dog ranges from $50-95.
But if you live in a larger city, like Los Angles the cost of a mobile dog groomer for a small dog can range from $150-350.
Moreover, and I hate to say this, but yes, size does matter. Most mobile dog groomers (at least those that are self-contained) aren't equipped to handle big dogs. They seem to accommodate dogs up to 40 lbs. Although, if you have a larger dog with mobility issues you can inquire with a particular groomer. You might be able to negotiate the use of your tub/shower for the grooming.
What should I expect with mobile grooming services?
This will depend on the type of dog groomer. If you select a self-contained innovative mobile design groomer, the services could be equal to or surpass a grooming salon. You will need to ask to confirm. Some services you can expect to find are:
Bathing with a complete shampoo and conditioning
Drying
Grooming and cleaning of pets sanitary area
Cuts and trims according to your instructions
Brush outs and final brush
Paw pads cleaned, trimmed, and moistened as needed
Nail trimming
Ear cleaning
A squirt of little fragrance (this seems to be protocol unless you say to hold the spray)
How do I find a great mobile dog groomer?
Ask for referrals from those you already know. Here are nine of the best places and people you can ask for a mobile dog groomer referral today.
1. Friends and family
Those who have tried mobile dog groomers will be happy to tell you the good, the bad, and the ugly.
2. Dog park pet parents and dog community
These referrals are much like friends. Dog parents from your dog community can be brutally honest.
3. Veterinarian
The staff and vet will have heard of or had personal experiences with mobile dog groomers.
4. Dog trainers
These folks again will often be brutally honest with what they know about mobile dog groomers.
5. Pet sitters
If you use a pet sitter and value that person, then ask for a referral for a mobile dog groomer. In their business of pets, they will most likely come across all things needed for pets.
6. Dog walkers
Again, if you use a dog walker, this person can be a valuable source in seeking a mobile dog groomer.
7. Doggie daycare
While a lot of daycares for dogs offer bathing, they will most likely be aware of the good and bad groomers, including mobile ones in the area. There's even a good chance they are using one at their facility for their personal dogs.
8. Animal shelters or rescue organizations
If you rescued your dog or support of rescue organization, then ask them about mobile pet groomers. They will most likely have a list of contacts at their fingertips.
9. Current groomer
You might be shocked that your current groomer offers mobile services. If he or she doesn't, then they will certainly know of a good one.
Where can I read reviews about a mobile dog groomer?
You will definitely want to check out the reviews people have written on a mobile pet groomer you are thinking of using. Read both the good and the bad reviews.
Additionally, pay attention if the groomer has replied to any of the reviews. My experience is that if a pet parent takes the time to write a review on anything, it's either really good or extremely bad. Sometimes it's that what was stated on the phone wasn't what was presented. Or the groomer was late without explanation.
However, if the groomer replies and says he or she took a bit more time with the previous dog due to it being its first cut. Or some reasonable explanation, then you can take that into your evaluation. As a dog parent, I'm extremely picky. But I also realize that people are human and there are two sides to most situations.
Therefore, it's a good idea to read as many of the reviews of the groomer as possible. You are looking for who has a lot of reviews noting it was an exceptional grooming experience.
Search the internet
You can find written reviews on sites such as:
Note: I found great reviews using the search term: mobile pet grooming
The groomer's website may even have testimonials. However, keep in mind that these can be cherry-picked.
How do I select the best mobile pet groomer for my dog?
Once you have your list of referrals and you've read the reviews, there will probably be one or two that float to the top. You'll want to call that groomer(s).
What to ask the mobile dog groomer on the phone?
Here are 19 of the top questions to ask a potential mobile dog groomer.
1. Are you self-contained?
This means the groomer will have an RV or van that he or she will do the grooming within.
2. Will you need to you my sink or tub?
Even if a groomer says he or she is self-contained, often they will need to use your facilities for bathing.
3. Do you provide the supplies such as dog shampoo and conditioner?
You need to know what is included and have it spelled out before your dog is groomed.
4. Will you be drying my dog with your dryer?
Often a groomer will ask to borrow your dryer. I know it's a bit weird.
5. Do you have a sturdy grooming table you use with a groomer's leash?
You want to know if you will be responsible for holding your dog during the grooming process. You may even want to ask this straight out.
6. Will you expect me to hold my dog while you groom?
This covers your bases.
7. Do you clean up after you complete the grooming?
You want to know ahead of time if you will need to haul out the vacuum cleaner to clean up after the cut.
8. Does the grooming include nail trimming, gland expression, and ear cleaning?
Most groomers do include this in the process, but you always want to make sure ahead of time even if it's stated on their website. I've learned that websites are often not up-to-date.
9. What do you do if a dog is extremely nervous?
You want to hear something about the groomer taking time to get to know the dog and calm his or her nerves before jumping into grooming. You never want your dog traumatized.
10. Do you carry insurance in case my dog is injured during the grooming?
You want the groomer to be professional and say that he or she has full insurance for any incident that could occur.
11. Are you licensed or are you certified to groom dogs?
Even if you've checked online ask this question. You don't want to hear the groomer lie to you. Additionally, you want the groomer to tell you that he or she has been certified and keeps up-to-date on re-certification.
12. Do you keep your certification and education up to date?
This is a verification question.
13. How long have you been a dog groomer and a mobile groomer?
These could be different. For example, the groomer could have been a groomer for 15+ years but only been mobile for the past year. That might be just fine. You'll need to make that call.
14. Normally, how long does it take to groom a dog like mine?
You need to know this so you can plan your day accordingly.
15. Is your transportation reliable?
You basically want to know if this groomer is going to be late or stand you up altogether.
16. What do you do if you are running late?
You want to hear that the groomer will call or text you. It's never fun to sit and wait for hours.
17. Are there any other services you offer?
You could be surprised. Sometimes a mobile groomer also has a salon. They may offer doggie daycare and a whole range of services for pets.
18. What is the cost to groom a dog like mine?
The groomer will probably ask about the type of dog you have and the size. For example, my dog, Henry is a rescue cockapoo and weighs 14.5 lbs. He would be considered a small dog.
19. How quickly can I get a grooming appointment?
If this groomer is booked out for 6 months, it's a good sign he or she is a good groomer. But you may not want to wait that long.
NOTE: Just like a typical salon groomer, you should expect to fill out and sign a pet release form. Additinally, you'll need to provide the mobile groomer with proof of your dog's vaccinations at your first grooming appointment.
Related articles:
Summary of the truth you need to know behind the wheel and razor of mobile dog grooming
You may have been wondering about a mobile dog groomer for your furry friend. Not all mobile pet groomers are created equal. Some states require a license for groomers. While others do not. However, all groomers should have a certification of some sort. You can find out what your state requires by looking online.
Additionally, some mobile dog groomers are self-contained in an RV or van, while others simply come to you and use your facilities and supplies.
By asking around you can discover the good, the bad, and the stay far away from groomers. Then you can easily do further research on the mobile groomers that rise to the top.
Finally, is getting down to bare bones and calling the prospective mobile groomer(s). By being very pointed about your questions you will be able to reveal a great groomer. However, if the mobile pet groomer isn't what he or she stated over the phone, don't hesitate to not accept the services when they arrive.
For example, if you expected the groomer to have a self-contained RV and he or she shows up with a car, you have the right to turn that groomer away. Your first responsibility is to your dog. If this dog groomer misrepresented themselves to you on the phone with basic information, what else was misrepresented? Think of the phone call as the interview. Never lie on the resume. It's not a good impression and will always end up in a firing.
NOTE: As for my friend, Kelley she says…"My take on things is the mobile service is more convenient. I like having them inside the house to keep an eye on the dogs. However, it involves more work for me."
Bottomline or bottom razor on mobile dog grooming
Basically, you need to pick your battles. Kelley would rather keep eagle eyes on her pups. I don't blame her after she lost her sweet Gus. Although, if you are working from home with calls and zoom meetings, or even have kids running about, this may or may not be a great option. You may need to be specific with a self-contained mobile dog groomer.
As for me, I think the right mobile pet groomer for the right dog parent and dog is perfect. Personally, I haven't found that mix yet.
Have you ever used mobile dog grooming? What was your experience?