Dogs seem to like all things gross and disgusting. I know my dog, Henry is cute and adorable, but he likes to stop to investigate every single gross thing that makes my skin crawl. Sound familiar? I think it's built into the dog DNA. What other critter would think to drink from a toilet? Thank goodness Henry isn't tall enough to reach the bowl. Have you ever thought about the dirty water lurking on dog hiking or walking trails? How dangerous is it for your dog? Can we budget for it? Today, let's dig into the dirty water risks to avoid with your dog.
*Updated: June 3, 2023

Budget Tip:

Here's the amazing thing with avoiding dirty water for your dog. You may not only be saving your dog from being sick, but also saving his/her life. It could be a huge vet bill or you could be mournining the loss of your furry buddy. All because your dog drank or splashed in some questionable water. Sometimes the water doesn't even look questionable. It could look pristine, but be fatal. That's truly scary. So, always be prepared with water you know is safe and never allow your dog to play or drink water you don't know is safe. That's being a good dog parent and defintely budget friendly. 
What is dirty water?
Simply put dirty water is water that you wouldn't drink. It may look clean, but you or your dog could get sick if you drank the water. You can find dirty water in such forms as:
Mud puddle
Pond water
Rain puddle
Lake
Creek
River
Dirty water could be standing or flowing water. You may not be able to visually tell or even by the smell that the water is dirty.
What dangers are hiding in dirty water for my dog?
This will naturally vary from location to location. But some of the most common dirty water issues for dogs are:
Blue Green Algae
Parasites
Bacteria
Sewage
Salt
What kind of illnesses can my dog contract from dirty water?
You may be shocked to learn that your dog can get sick from water that even looks clean. Additionally, the water may even be flowing. However, it can make your dog sick if he or she drinks or even plays in it. Here are the top five culprits of water-borne illnesses in dogs.
1. Blue Green Algae Poisoning in Dogs
This type of dangerous water will appear very green on top. It will almost look like paint has been poured on top of the standing water. It could even have a green oil slick appearance. Any water that looks like this you and your dog will want to simply avoid it. Even if there are no signs prohibiting it, don't swim, fish, or allow your dog to drink or enter this type of blue algae water.
However, if your dog does come in contact with blue green algae contaminated water, you'll need to act quickly to get him or her to your vet.
Do you know how to find a vet that's a good fit for you and your dog? In this article, I walk you through the process.
How to avoid blue green algae
This is one of the easier dirtier waters to avoid since the water presents a blue green oil spill appearance. If you see a waterway that has this appearance, just avoid it.
Symptoms of blue green poisoning in dogs include:
Panting
Vomiting
Seizures
Drooling
Diarrhea
Blue green algae poisoning may also include liver and respiratory failure as well as death. Thus, the need to act quickly and avoid blue green algae water at all costs with your dog.
NOTE: At Henry's favorite hiking spot, there are signs up currently that the lake is toxic due to blue green algae. However, don't expect signs in all locations. Especially as the drought in the west continues, blue green algae will become more prevalent.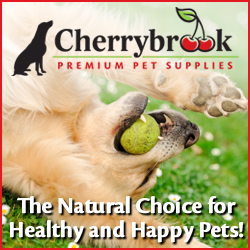 2. Giardia in Dogs
This is a microscopic parasite that you won't be able to visually see or smell. Giardia is found in water that has been infected with feces. This can be human or animal feces. Additionally, the water can be standing or flowing. Thus, a creek could be soiled with wild animal feces. Or it could be soiled by dogs eliminating too close to the creek. This is a very good case for always picking up your dog's poo and not allowing your dog to defecate close to waterways.
How to avoid Giardia
Since Giardia isn't easy to detect, the best idea is to avoid waterways you don't know. The good thing with Giardia is that it's not fatal, but it can make your dog sick. So, you do want to be a good dog parent and provide clean, safe water.
Do you know how to properly prepare for an emergency vet visit? In this article, I walk you through how to do it and possibly save some money in the process.
Symptoms of giardia in dogs include:
Diarrhea
Vomiting
Diminished appetite
Lethargy
If your dog is exhibiting any of these conditions, you'll want to seek veterinarian care for a proper diagnosis and treatment.
NOTE: On the day I adopted Henry, I stopped at what is now his favorite hiking spot. Not knowing better, I let him drink water from the flowing creek. Heck, it looked clean and certainly smelled clean. Other dog parents were letting their dogs drink from the creek. I figured it was safe. But I soon discovered that he contracted giardia from the creek. He was prescribed antibiotics and recovered quickly. However, the vet advised me to never let him drink from anything other than the water I provide when walking or hiking. There are too many dangers lurking in water for dogs. I sum that lesson up with one of my favorite quotes…

When you know better, you do better. ~ Maya Angelou
Wish you could hike with your dog without back pain? In this article, I show you how to do it.
3. Cryptosporidium in Dogs
This is another parasite that is found in infected water as well as food and feces. Again, you will not be able to tell the water is dirty simply by a visual inspection for cryptosporidium. You probably won't be able to smell that it's dirty water either. These parasites are microscopic.
How to avoid Cryptosporidium
Since it's difficult to tell if water is infected with this parasite, the best option is to avoid waterways and give your dog only water you know is safe.
Symptoms of cryptosporidium in dogs include:
Diarrhea
Fever
Lethargy
Weakness
Diminished appetite
The good news is if your furry friend is in good "dog health" he or she may not need any treatment for this parasite. However, if your dog is a puppy, senior, or has immune issues, he or she will probably need treatment. You'll want to consult your veterinarian either way. Additionally, this is another good reason to not only let your dog drink solely from water you provide but also not eat feces. I know that can be a tough one for some dogs, but one worth working on with your dog if it's an issue.
4. Leptospirosis (Lepto) in Dogs
This is a bacteria that resides in rivers, creeks, streams, and lakes worldwide. It's considered a zoonotic disease, which simply means it can be passed from animal to human. While this harmful bacteria is most common in areas that are warmer and have a lot of rain, it can occur anywhere.
How to avoid Lepto
Lepto is passed through urine-infected water, soil, food, or bedding. Again, you may not be able to tell that a stream is soiled with leptospirosis until your dog is sick. Thus, it's best to avoid letting your dog drink from waterways.
Symptoms of leptospirosis in dogs include:
The symptoms of lepto can vary in dogs. While some dogs will be very sick. Others will have extremely mild symptoms and recover quickly. However, if you suspect your dog has been exposed to lepto you'll want to consult your veterinarian immediately. Here are some symptoms that could appear if your dog has been infected with leptospirosis:
Frequent urinating
Dehydration
Vomiting
Diarrhea
Diminished appetite
Lethargy
Inflammation of the eyes
Jaundice (yellowing) of skin and mucous membranes
Additionally, this bacteria can cause kidney and liver failure or problems.
NOTE: If your dog is at high risk for exposure to Leptospirosis, you may want to consult with your veterinarian about the vaccine for leptospirosis. This vaccine has been associated with allergy issues. However, those issues may be better than the possibility of lepto. It will be something to discuss with your veterinarian.
Do you struggle to open your dog's poop bags? I did until I created this easy and free hack. In this article, I walk you through how to create your own version.
5. Hypernatremia in dogs
This is basically excess saltwater ingested by your dog that puts his or her system in a state of imbalance.
While it can be fun to play with your dog at the ocean or some other saltwater body, keep in mind the risks. A little ingestion of saltwater will cause diarrhea. However, your main concern will be when enough saltwater is ingested that more serious symptoms occur.
How to avoid Hypernatremia
Generally, when playing with your dog in saltwater, it's recommended that you make your dog take a break every 15 minutes and drink clean water. You may need to squirt the clean water into your dog's mouth to encourage drinking. However, this is thought to prevent the more serious symptoms of hypernatremia.
Symptoms of hypernatremia in dogs include:
Diarrhea
Vomiting
Dehydration
Seizures
If your dog has these symptoms of hypernatremia, you'll want to seek veterinary care immediately.
Does your dog get covered with sap on every hike? In this article, I share my best tips for removing sap from fur. And they work!
Are there any other dirty water areas to avoid with my dog?
Any stagnant water could be a breeding ground for a bacterial infection in your dog. Since you most likely don't know the medical history of all the dogs at the dog park, it's a good idea to avoid communal water bowls. Remember not every dog owner is responsible and will act when their dog is ill. However, you can be a responsible dog owner and protect your dog's health by providing a clean water source for your furry friend. Don't forget to always pack a folding or travel dog water bowl for walks, hikes, and other adventures.
How much can I save by when I avoid dirty water with my dog?
This could surprise you, but depending on your area, your dog's age and health, and the type of dirty water your dog has gotten into you could get a vet bill anywhere from $100-$5,500+. If your dog ends up not surviving, then it's really a difficult bill. Any way you cut it, dirty water is something worth avoiding with your dog and pets, not to mention yourself and your kids.
Related articles:
Summary of dirty water risks to avoid with your dog
Dirty water can certainly sneak up on you and your dog. It did me and Henry our first day together. Sure it's easy enough to avoid some water that looks dirty, like blue algae. But other dirty water can be deceiving in its appearance.
I quickly learned even though I saw people letting their dogs drink from a mountain creek, it's not the best option for dogs. Now, I always carry enough water for Henry and me. I've learned my lesson.
Have you unknowingly encountered any gross dirty water with your dog? How did you react to it?