Easy dog teeth cleaning in less than 30 seconds sounds like a dream, doesn't it? I use to be the same way. But I can tell you it's absolutely possible. You can even do it at home without anesthesia and no special training. In this article, I'm going to tell you a story of how I made a promise to my dog, Henry, and how a simple promise has been kept with an amazing product called TruDog Dental Spray. 
A simple promise to a rescue dog
When I adopted Henry, I knew he had a history and spent four months in foster care. I wanted to avoid unneeded trauma as much as possible. I told him I would do everything in my power to keep him healthy and avoid any anesthesia. As I made this promise, I looked at his teeth and wasn't sure how I would do it. I could see tartar on his canine teeth. But I was determined. I've always been a believer in "where there's a will, there's a way." So, I began to do research. 
In this article, I talk about the day I adopted Henry.
TruDog quickly rose to the top as an easy dog teeth cleaning product
It wasn't long before I found TruDog Dental Spray. It is loaded with only natural ingredients to melt tartar, help gums, and improve doggy breath, which is a bonus!
Plus, TruDog Dental Spay boosts immunity. Additionally, it is easy to digest and hypoallergenic. These were all important to me. I adopted Henry with some digestive and allergy issues. As a result, I'm always wanting to boost his immunity. 
TruDog also offers a 60-day money-back guarantee, which was the final straw that sold me. 
How to administer TruDog Dental Spray for easy dog teeth cleaning
It's recommended to spray your dog's teeth at least 30 minutes before or after food or drink. If your dog's teeth are very bad, then they recommend spraying twice daily and then cutting back to once a day. 
Gently pull back the gums and spray. Henry always finches, even now. I cover his eyes so he doesn't know it's coming. 
NOTE: The first few times I sprayed Henry's teeth, he drooled it out like a two-year-old. It was kind of funny. He needed to get used to it. Now he doesn't do that. You may want to show your dog it sprays before you spray your dog's teeth, especially if your dog is "mouthy". 
I will generally spray Henry's teeth first thing in the morning, go outside for his first exploration, and then by the time he comes back inside, he can have breakfast because it's about 45 minutes later. 
While you're taking care of your dog's teeth at home you can also care for your dog's nails. Learn how in this article.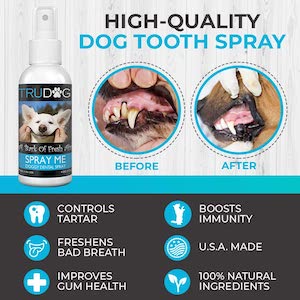 Does TruDog Dental Spray work as an easy dog teeth cleaning product?
I took Henry to see his veterinarian the day after I adopted him. His vet looked at his teeth and said, "He may need a dental cleaning within the year." This was in late May.  
In November, Henry had been on TruDog Dental Spray for several months and had his first Fall check-up with his veterinarian. His vet looked at his teeth and said "His teeth look great! Maybe in a couple of years, he'll need a cleaning." 
Basically, in six months his teeth went from needing a cleaning within seven months to maybe cleaning with 24 months. That is all because of TruDog Dental Spray. 
In this article, I discuss how to find the best veterinarian for you and your dog. 
One more example of TruDog Dental Spray an easy dog teeth cleaning product
Henry was horribly attacked a few years ago and spent about five months in a "cone of shame" while his eyelid and eye healed. During this time I didn't bother to spray his teeth. He looked so sad, I didn't want to add to his discomfort. At least that's what I told my brain. 
In this article, I discuss what to do if you have an aggressive dog. 
However, when he went in for his check-up in March, his veterinarian said "He'll probably need a dental cleaning by the end of the year." Those few months cut his timeline in half. 
He's healed as much as possible and back to his regular morning TruDog Dental Spray. His veterinarian now says "Maybe in a couple of years he might need a dental cleaning." 
I'm a true believer in TruDog Dental Spray. It is an easy dog teeth cleaning product. It has allowed me to keep my simple promise to Henry. 
In this article, discover why your dog needs you to brush his/her fur regularly at home – and how to do it for different fur types. 
Budget tip:

Yes, you do have to buy TruDog Dental Spray every 60-90 days, depending on your dog. However, when you consider that a basic dog dental cleaning at your veterinarian's office is between $300-700 and the cost of dog tooth extraction is $500-800 per tooth plus antibiotics and pain killers, there's no comparison. (These cost estimates can be substantially more in certain areas). With TruDog your dog is in no pain and no recovery. As you may know, anytime your dog undergoes anesthesia, there is a bit of an unknown factor. For me and Henry, TruDog Dental Spray is an easy choice plus a major budget winner! 
Summary of easy dog teeth cleaning in less than 30 seconds
Yes, I can confidently say, easy dog teeth cleaning in less than 30 seconds can is be done daily. Henry can attest to it. And Henry's veterinarian can attest to it. I couldn't be more pleased with this product. While I was hopeful, I wasn't at all sure at first it was going to work. However, it has proven itself time and time again. Honestly, the only real complaint I have is I would like to use it on my teeth. Heck, I drink a lot of coffee and tea and would love an easy way to clean them as well. 
Have you tried TruDog Dental Spray? What experience have you had with it?